Acorn Squash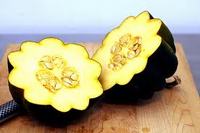 Acorn squash is most commonly baked, but can also be microwaved, sauteed or steamed. It may be stuffed with rice, meat or vegetable mixtures. The seeds of the squash can also be eaten, usually after being toasted.

Taylor's favorite-We love to bake Acorn Squash with a little bit of butter, brown sugar, and maple syrup! Yum!
---
Butternut Squash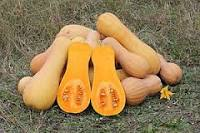 Butternut squash is a fruit that can be roasted, toasted, puree'd for soups, or mashed and used in casseroles, breads, and muffins. We think of Butternut Squash like Sweet Potatoes. If the receipe calls for Sweet Potatoes we often subsitute with Butternut. The taste and texture is very similar.

Taylor's favorite-Bobby makes an outstanding Butternut Pie. We think the taste is richer than a Sweet Potatoe pie!
---
Canary Melon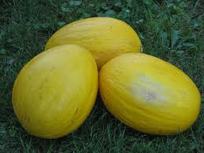 Canary Melons are large, bright-yellow with a pale green to white inner flesh. This melon has a distinctively sweet flavor that is slightly tangier than a honeydew melon. The flesh looks like a pear but is softer and tastes a little like a cantaloupe.

Taylor's favorite-On a hot summer day we make sure we put a few Canary Melons in the walk in and enjoy them when the day is done. Kane prefers a Canary Melon over Canteloupe.
---
Collards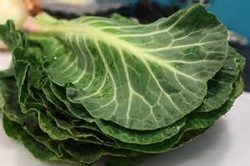 ---
Curly Kale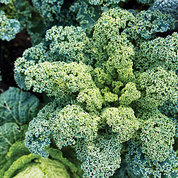 Cut away the tough central ribs of curly kale before you chop or shred the leaves. For best results, either cook very briefly in a large volume of ready-boiling water or stir-fry as a side dish. Add a small amount to soups, and pasta sauces.



Taylor's favorite- We like adding to smoothies, stir fry or adding it to our soups.

---
Eight Ball Zucchini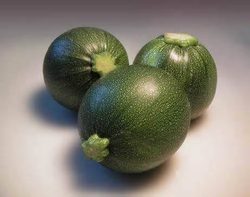 ---
Lacinato (Dino) Kale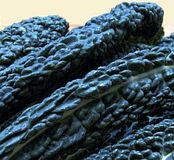 Dinosaur kale, like most other kale varieties, is usually blanched first, and then sauteed with other, flavorful ingredients. It is commonly used in pastas and soups, but can also be eaten raw, in a salad.
Taylor's Favorite-
We prepare this is by making Kale Chips. The boys love chips and this is a healthier option.
---
Patty Pan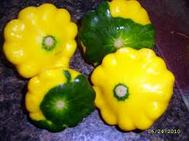 There are several ways to enjoy Patty Pan Squash. They can be grilled, sauteed, baked or even put in a salad raw.

Taylor's favorite- Grilling is our favorite thing to do in the summer when it comes to dinner. Patty Pan squash is always in the menu. We cut up patty pans, zucchini, onions, tomatoes, add seasoning to them roast on the grill in a grill basket. Yumm!

---
Radish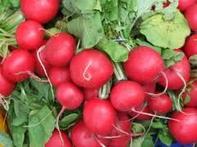 Radishes are usually eaten raw; however, they can be added to cooked dishes or served whole. Depending on the variety some radishes can tend to have a "hot" taste to them.

Taylor's favorite-We love to add them to our salad but also love the Braised Radish recipe.

---
Swiss Chard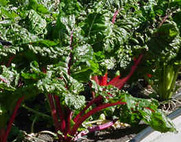 The leafy portion is always a nice green, while the stalk can be white, bright yellow, or a Christmas red. Adding Swiss Chard to Pasta , omelets, or salads can be very beneficial to ones diet and adds a unique taste.

Taylor's favorite-We mainly eat the chard raw in salads, we also use the stalk like celery.


---
Salad Turnip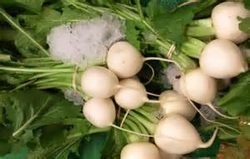 ---
Spaghetti Squash



Spaghetti Squash is wonderful when cooked and stringed out. It is very similar to Spaghetti Noodles and sometimes used as the noodles in a Spaghetti Dinner. The use for Spaghetti Squash is endless. For some that do not like Squash we encourage you to try this variety. It is a lot different!

Taylor's favorite-The kids call it silly squash because of the texture. Usually with thissquash, butter, salt, and pepper is the only thing we add. The kids love it!


---
Spinach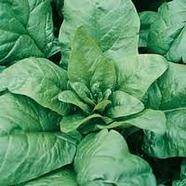 There are several ways you can prepare fresh spinach for a healthy side dish. One of the easiest ways is to sauté it in a pan. You will be surprised by how much better fresh spinach tastes than the canned or frozen varieties. Spinach is also added to dips, casseroles, or salad.


Taylor's favorite-We love making salads with different greens mixed in with the lettuce and a spinach and cheese dip is always a hit when we entertain.

---
Turnip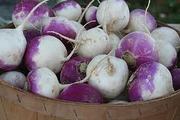 Turnips can be sliced, diced, chopped, or left whole depending on their size, and cooking technique you'll be choosing. They can also be grated to be used in salads or coleslaw.

Taylor's favorite- We mostly use turnips for making different casseroles. A huge hit at the dinner table.

---
Sweet Corn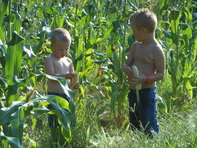 Sweet corn is a well known summer favorite and we are very excited to grow sweet corn that is certified organic! In 2012 we were given alot of compliments on how sweet the corn was and we always had a pot boiling on the stove waiting for the boys to bring the corn up for dinner.

Taylor's favorite-Corn on the Cob! We did freeze alot of it as well and we use that over the winter in casseroles and soups.
---
Zucchini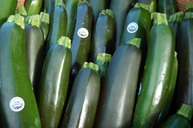 Zucchini can be prepared a lot of different ways. They can be grilled, sauteed, baked or prepared raw. One way that has become very popular is using a salad shooter to make Zucchini pasta.

Taylor's favorite- We love to grill them, but if you have ever wanted to try Zucchini Bread or Cake is also a hit with the boys. For parents with picky eaters at the dinner table Zucchini is a great item to cut up puree and add to spaghetti sauce. They will never know!

---